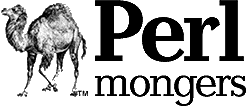 Wellington
Perl Mongers

Wellington Perl Mongers is a group that meets monthly to discuss topics related to programming in Perl. There is no membership or registration process – if you're interested, just turn up. If you're looking for Perl help between meetings, use the mailing list or IRC.
Next Meeting
The next meeting of Wellington Perl Mongers will be on Tuesday November 14th.
6:00pm Tuesday 14 November 2017
Level 3, Catalyst House
150 Willis Street
Wellington [
map
]
The following talks are scheduled:
Jacob Lister - Making music with Perl
Someone else - contact Grant to book a slot.
Get on the mailing list or contact Grant if you'd like to volunteer to speak or suggest a talk topic for a future meeting.
Previous Meetings
Visit the archive page to check out topics we've covered and refer to some of the slides
Future Meetings
Wellington Perl Mongers meets on the second Tuesday of each month.
If you would like to volunteer to speak or would like to suggest another topic, speak up on the mailing list.
Mailing List
The Wellington Perl Mongers mailing list currently has very low traffic levels - don't be afraid to subscribe :-)
Visit the list information page to subscribe, or to view the list archives.
IRC
The 'official' IRC channel for Wellington Perl Mongers is #wellington.pm on irc.perl.org.
For further information, please contact
The use of the camel image in association with the Perl language is a trademark of
O'Reilly & Associates
, Inc. Used with permission.